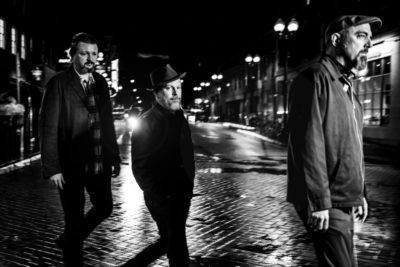 Vapors of Morphine performs the music of 90s "low rock" cult band Morphine alongside new sounds — ethereal, hypnotic and expansive. Formed over a decade ago by Morphine saxophonist Dana Colley with singer & multi-instrumentalist Jeremy Lyons, and Morphine's original drummer Jerome Deupree, the group now includes drummer Tom Arey (J. Geils Band, Peter Wolfe's Midnight Ramblers, Ghosts of Jupiter). Their latest album, Fear & Fantasy (featuring both drummers), comes out on Schnitzel Records (UK) in a combined 180 gram coloured vinyl/CD audiophile package.
A chance encounter between low rocker Colley and a street singer has coalesced into a creative partnership breathing new life into the genre created by Morphine. Struck by a busking blues band while on tour in New Orleans, Colley stopped, listened, and grabbed his Polaroid to capture a couple of moments, leaving a snapshot in the guitar case along with a tip. Years later, well after the tragic passing of Morphine front-man Mark Sandman after a fatal heart attack onstage in 1999 and Lyons's relocation to Boston following hurricane Katrina, Lyons and Colley were introduced by mutual friends and began collaborating informally. They soon discovered the photo of Lyons and his street band pasted into one of Dana's tour journals, along with a detailed description of the band. Years later, Jeremy discovered that he had the matching Polaroid to the one in Dana's journal amongst the few of his photos that survived Katrina's flooding.
Lyons, Colley and Deupree jammed and played some small bar gigs, but they never touched a Morphine song until 2009 when invited to perform at the Nel Nome Del Rock festival in Italy; the scene of Morphine's last gig. The response cemented the trio's bond & Vapors of Morphine was born.
Vapors of Morphine honours Mark Sandman's legacy by blazing musical paths in new directions. A restless spirit, Sandman headed several bands in different styles, some of which shine through Vapors. The influence of Southern American music is heard in Lyons's swamp-tinged treatment of traditional songs. Colley's processed saxophone — testing the upper limits of low rock and blurring the line between wind instrument and electric guitar — continues the Morphine tradition of sonic exploration. And the group's arrangements of African guitar music bring to mind the variety of world music one experiences walking around the multicultural Central Square, Cambridge, where there is a corner named for Mark Sandman. All of this was on full display in their 2015 release A New Low.
Their new album Fear & Fantasy represents both a new era and a return to form for Vapors. There are new songs and sounds, including a lot of guitar and Colley's electric "low sax," but also the familiar rumble of two-string, slide bass. In its often-lush arrangement, it recalls Morphine's final album, The Night, where Deupree teamed up with Billy Conway, the drummer who had replaced him; this time Arey plays on one side, Deupree on the other. It only seems fitting when both bands have been blessed with a revolving cast of top-notch percussionists.
Contrary to the obvious misconception, Morphine was named for the ancient Greek dream deity Morpheus, not for the drug. But the Vapors of Morphine experience is an alleviation that can take you places people only visit in dreams. Nevertheless, Vapors of Morphine music might be pulling the listener deeper and deeper into that hazy state between consciousness and unconsciousness.
Vapors of Morphine October 2021 East Coast tour to be confirmed in July 2021 and Europe plus Russia to follow.