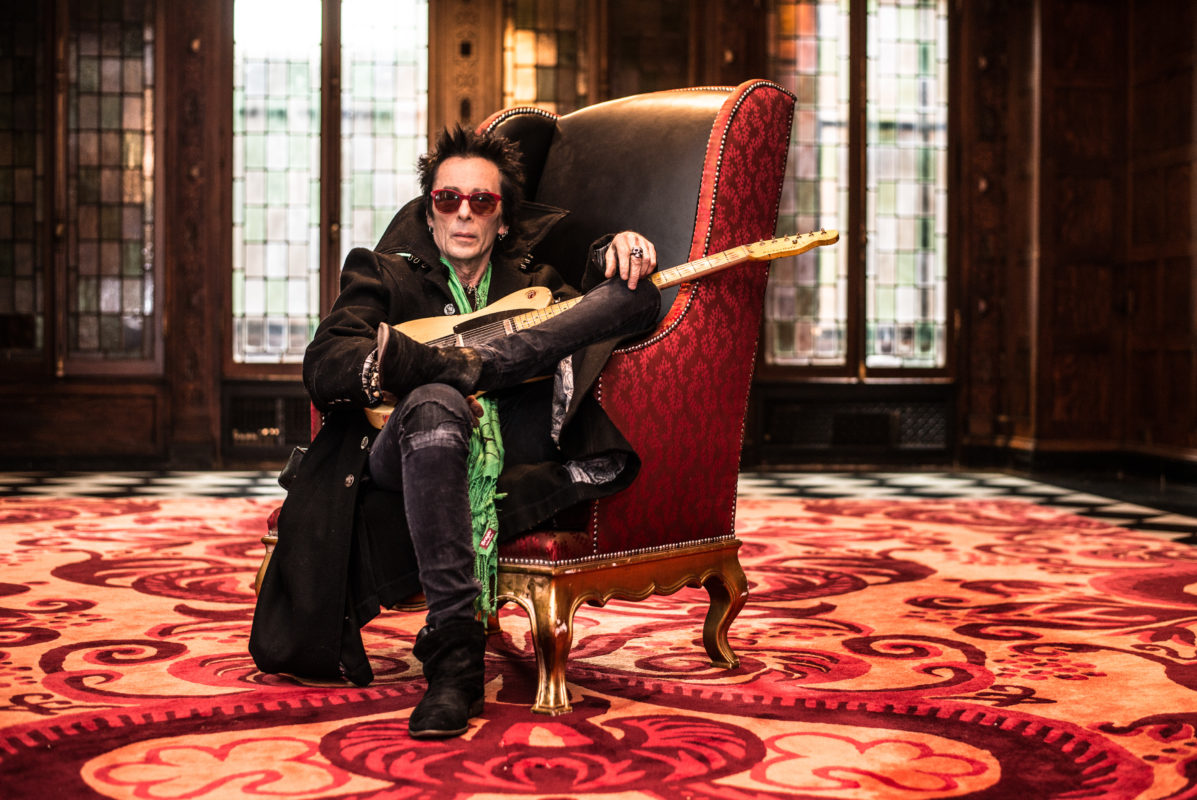 Slick's musical odyssey began in earnest when he was 20 and the creator of the New York Rock 'n Roll Ensemble, composer Michael Kamen, recognized his talent and brought him into the studio for collaborations with established pros such as David Sanborn, and Hank DeVito and Paul Butterfield.
"Michael took me under his wing," Slick said. "And eventually he put me in his band. One day, Kamen said he'd arranged an audition for Slick with a "really big artist" for a new gig. He declined to say who. "(Kamen) said, 'Keep your shit together. They are going to be calling you.'"
A few days later David Bowie's assistant called and asked Slick down to a Manhattan studio for an audition. "I thought there was going to be a whole band there." Slick was handed an amp and some headphones. The producer asked him to play along to unmixed and unreleased Diamond Dog songs such as Rebel Rebel. He played for about 20 minutes.  "Then David walked in. I didn't know he was there. He'd been listening from another room. He picked up a guitar and we noodled around for about an hour and we talked." Twenty-four hours later, he was offered the gig to go on the Diamond Dogs tour. Slick was 22 years old.
For the next two years, through the Diamond Dogs tour and the two studio releases, Young Americans and Station to Station, Slick's playing expanded well beyond 12-bar blues. He left Bowie after Station and formed the Earl Slick Band. He began a series of collaborations with Ian Hunter, John Lennon and Yoko Ono.
Then after the release of Let's Dance in 1983, Bowie came calling again. Stevie Ray Vaughn, who played guitar on the album, quit the band after a dispute with Bowie. Slick was called as a last-minute replacement for the upcoming Serious Moonlight Tour.
A cascade of gigs and projects followed: He founded Phantom, Rocker & Slick which charted two top 10 singles and reached number seven on the Billboard rankings. As an added bonus: Slick's idol Keith Richards contributed to one of the album's singles "My Mistake."
Then in the early 2000s, Bowie came calling again. Slick played in on the next three studio albums,  Toy, Heathen and Reality. He performed as the touring guitarist for the albums as well. Never accused of resting on his laurels, Slick then released another solo album Zig Zag and joined Slinky Vagabonds with original Sex Pistols bassist and songwriter Glen Matlock – a musician he will tour with later this year.
In 2015, he again worked with Bowie on his second-to last album The Next Day, before Bowie's death in 2016. It isn't lost on Slick that NASA broadcast Bowie's "Life on Mars?" when the Perseverance rover touched down on Feb. 18 in what amounts to a multi-billion-dollar effort to answer Bowie's simple question. That's Slick playing the guitar millions of people listened to. Again.